By Kevin Rector
Baltimore Sun
February 7, 2020
Read the full article here
Maryland elections officials said Friday they will no longer require the state's largest jurisdictions to use a wireless network to transmit voter information to the state during its upcoming primary and general elections, after the network caused a significant slowdown during voting in the special 7th Congressional District primary.
Baltimore City and Montgomery County promptly opted out. Howard County said it would keep using the network, pending a review.
The network, which cost about $2 million in federal funds to set up, was used for the first time Tuesday in Baltimore City, Baltimore County and Howard County, where voters were electing nominees to fill the remainder of the late U.S. Rep. Elijah Cummings' term in the House of Representatives.
The Maryland Board of Elections said it could return the network to service in the future but won't require its use in the April 28 primary or in the general election on Nov. 3, when voter turnout is expected to be far larger than Tuesday.
"We're just making a decision for the 2020 elections. 2022 is two years from now. We see the need and benefit of it, so I would say it's not scrapped. It's just been postponed," said Nikki Charlson, the board's deputy administrator. "We always hope that every voter has a good voting experience, and when they don't, we take that seriously, and that's what we've done."
The network connects tablet-like pollbooks that poll workers use to check in voters, allowing the workers to transmit information to the elections board in real time.
"There are benefits, really good benefits, for the local boards of elections to get insight into what's happening at their voting locations," Charlson said — including the ability to track turnout in real time, anticipate shortages in paper ballots and remotely spot problems with the pollbooks.
If local jurisdictions choose to use the network in the coming elections, the state board will continue to assist them in doing so, Charlson said.
The decision not to force the state's six largest jurisdictions to use the wireless network won praise from critics who had cited Tuesday's slowdown as fresh evidence the system was poorly conceived and inadequately vetted.
"The County is very grateful to the State Elections Administrator for considering the concerns of the County regarding cybersecurity risks and potential malfunction on election day," Montgomery County Executive Marc Elrich said in a statement. "Montgomery County will opt out of using the system for the 2020 election cycle."
Baltimore elections director Armstead Jones said the city also would opt out, given slowdowns experienced in the city Tuesday.
Sen. Cheryl Kagan, a Montgomery County Democrat who had introduced emergency legislation in Annapolis that she said would make the network unnecessary, said in a statement Friday that she was "relieved" the Board of Elections staff had "abandoned their flawed plan."
"One of the most consequential presidential elections in history is not the time to experiment with wireless devices statewide," Kagan said. "Instead, Maryland should avoid installing new wireless technology so as to ensure security of our process and the resulting confidence in the election outcome."
Kagan, Montgomery County officials and other critics complained before Tuesday that the network served no purpose, unnecessarily exposed the state's election system to possible cyberattacks, and unfairly burdened the jurisdictions. Baltimore City and the counties of Anne Arundel, Baltimore, Howard, Montgomery and Prince George's all have large Democratic voter bases.
Officials at the State Board of Elections disputed those claims, arguing even after the problems Tuesday that the system was secure and would be ready for the larger number of voters this spring and fall. They said they are conducting a full review of what happened Tuesday, and are confident they will identify the issue to avoid similar slowdowns in future elections.
Guy Mickley, Howard County's election director, said he is confident, as well — and plans to continue using the network.
"After the extensive testing, which I know the state is going to conduct, I'm happy with it," he said.
Until Tuesday's slowdown, which Mickley was among the first to notice late in the day, the network had been fantastic, he said, giving him insights into turnout and other problems in the process in real-time. And when the slowdown did arise, he simply disconnected from the network, which remains an option in the future.
"My goodness gracious, the advantages of administering an election using this system — it's like the best thing since sliced bread," he said.
Katie Brown, Baltimore County's election director, said her county would decide whether to use the network again once the state board completed it's review. Representatives from other counties did not respond to requests for comment.
Tuesday's slowdown was resolved by disconnecting the pollbooks from the network. Officials said no one was prevented from voting by the slowdown. And they said all of the information that was supposed to be transmitted to the state over the wireless network was simply submitted in the traditional way instead, with poll workers removing databases from the pollbooks and physically driving them to their local elections boards for uploading to the state system after polls closed.
The decision not to require the wireless network's use in the next two elections raised its own questions. The network was meant to resolve a problem state officials said they expected to have vetting ballots for potential irregularities in a timely manner, given a recent law change allowing for same-day voter registration.
State elections officials said same-day registration created the potential for voters who already voted by absentee ballot to show up at a local polling station and register on the spot to vote again. They said they needed a faster way to collect voter registration data from polling stations so that their subsequent review of absentee votes — mandated by law to begin at 10 a.m. on the second day after an election — could be conducted accurately, and duplicate votes tossed out.
The wireless network, officials said, would allow the state to download data on a rolling basis during elections, ensuring the information would be collected in time for the review.
On Friday, Charlson said her office will be working with any jurisdiction that opts out of using the wireless network to find some other solution to ensure prompt delivery of voting data to the state. She declined to comment on the legislation that Kagan introduced in Annapolis, which would delay the start time for counting absentee ballots to give jurisdictions more time to transmit the data as they have in the past.
"Commenting on legislation is a function of the five member State Board of Elections, and we haven't met to discuss that bill," Charlson said.
Michael Cogan, chair of the five-member oversight board, could not be reached for comment Friday.
---
Officials to Investigate Problems With New Wireless Networks That Emerged During Tues. Primary
By Danielle Gaines
Maryland Matters 
February 5, 2020
Read the full article here
The Maryland State Board of Elections will investigate what caused a slowdown in the pollbooks used to check in voters during the special primary election in the 7th congressional district Tuesday.
The books were connected to a state voter database in Annapolis through a wireless network that is slated for a widespread rollout in Maryland's largest counties for the 2020 election.
While a similar network has been used previously at the limited number of early voting centers in Maryland's counties, the special election Tuesday marked the first widespread election day use of the network — the necessity and security of which has been questioned by state elections board members and Montgomery County officials in recent months.
On Thursday, the Senate Education, Health and Environmental Affairs Committee is set to consider an emergency bill from Sen. Cheryl C. Kagan (D-Montgomery) that she introduced in an effort to remove the need for the wireless networks.
The state elections office plans to install the secure networks at 1,300 polling places in the state's six largest jurisdictions ― Baltimore City and Anne Arundel, Baltimore, Howard, Montgomery and Prince George's counties ― to transmit real-time voter registration changes from electronic pollbooks to the state office in Annapolis during voting. State elections administrative officials say the network is needed to handle a potential increase in the volume of transactions with the state's shift to same-day voter registration.
At state board meetings, county officials have worried that the wireless networks leave the state's election system vulnerable because each network is a new potential access point for a bad actor at a time of increased fears of election meddling and integrity. Montgomery County has also balked at the increased cost for the expansion.
The first test of the system came Tuesday during the special election in the 7th District, which includes portions of Baltimore City and Baltimore and Howard counties.
Well into Tuesday's election, Howard County officials reported that its pollbooks were running slowly. Around 5:30 p.m., county and state officials decided to disconnect the pollbooks from the wireless network, which improved their speed. Until the disconnection, data from the pollbooks was properly transmitting to the database in Annapolis, Nikki B. Charlson, the state elections board's deputy director, said Wednesday afternoon.
Disconnecting from the network sped up the pollbooks and the elections were able to continue without issue, Guy Mickley, Howard County's election director, said Wednesday.
"Whether we're connected or not, the election is still being conducted," Mickley said.
After the disconnection appeared to improve pollbook speeds in Howard County, the network was also disconnected in Baltimore City and Baltimore County just before 6:30 p.m., Charlson said.
The network at issue concerns voter registration and ballot data and is entirely separate from the state's voting system, Charlson said.
Because the volume of transactions Tuesday was much lower than a statewide general election day, counties faced no delays in manually uploading the pollbook data at the end of the night.
Before the disconnection, roughly 200 same-day voter registration changes had been transmitted over the network, Charlson said.
Mickley said the network allowed elections officials to get a real-time look at data, including turnout numbers. "Once they work out the kinks, this is going to be a super tool for us going into the future," Mickley said.
But news that the network didn't function as intended rankled Kagan.
"Election day is not the time to experiment with risky new gadgets," Kagan said.
The emergency bill she introduced in January would delay the start of the state's first absentee canvass. Doing so would remove the urgency for data transmission and for the wireless networks that have caused so much concern, Kagan said.
Her skepticism about the networks increased substantially after Tuesday, particularly because the scale of the election included "a tiny fraction of the number of registered voters, voting in just one-eighth of our state."
"If there were problems then, it's shocking that anyone would believe we would expand that," Kagan said.
Charlson on Wednesday said the state board undertakes reviews after every election day and will investigate the cause of the slowdown on Tuesday. "We are going to find the cause of the issue, find a fix, implement the fix and test it," she said in an interview.
Charlson said it was premature to reach conclusions about causes of the problems on Wednesday or the fate of the networking system.
"If it proves itself in testing, we're going to use it," she said.
Charlson also said Wednesday there was no evidence of nefarious activity.
The rollout of the proposed network has caused consternation among the State Board of Elections oversight board in recent months.
In January, Montgomery County officials appeared at the state meeting asking to opt out of the network, citing concerns about cost and security.
At that meeting, some state board members also expressed concerns about the system, the rollout of which has been overseen by elections staff without formal action from the board.
Board Member Kelly Howells said Wednesday she was surprised to hear about the issues related to Tuesday's elections from Maryland Matters.
"I'm very frustrated by the lack of information being shared with the oversight board," Howells said.
Given the concerns that have come up about the program, Howells said she wishes the board had been consulted along the way.
"I would have wanted to know that every opportunity, every alternative, to wireless networking had been explored," Howells said.
The issue is likely to arise at the election board's next meeting later this month.
Since last fall, board members have received closed-door briefings to address questions about the system, but those questions were not addressed during open board meetings. Charlson has stated publicly that the wireless networks are masked at polling places and the information transferred is encrypted. Precincts also maintain backups of the pollbook information.
---
Maryland elections officials shut down network to transmit voter data during special primary because of delays
By Kevin Rector
Baltimore Sun
February 5, 2020
Read the full article here
A network designed to transmit Maryland voter data to state officials in real time during elections had to be shut down during the 7th Congressional District primary after officials determined it was causing delays at polling sites. Voters lined up Tuesday at Westside Skill Center on Edmondson Avenue. (Karl Merton Ferron)
A network designed to transmit Maryland voter data to state officials during elections had to be shut down during the 7th Congressional District primary because it was causing significant delays at polling sites, the Maryland State Board of Elections said Wednesday.
State officials were using the network for the first time on an election day during a special primary in the district, which includes parts of Baltimore City, Baltimore County and Howard County
The problem involved pollbooks, the tablet-like computer terminals that elections staff use to pull up voters' registration information.
The issue did not prevent anyone from voting, nor did it create other problems, officials said. The state simply reverted to a process it's relied on for years: Polling officials physically removed the pollbook databases after the polls closed at 8 p.m. and drove them to their local boards of election for uploading to the state network.
"We have backup plans to backup plans, always focused on getting voters through the process," Charlson said.
Still, the problems — in the wake of more serious and unrelated technological failures Monday in Iowa's Democratic caucuses — reignited skepticism some local officials and Maryland Democratic Party leaders had expressed earlier regarding the new network. In recent months, they've questioned the network's purpose, whether it's vulnerable to cyberattack and if it has the potential to disrupt voting, particularly in the state's most heavily populated, and largely Democratic, jurisdictions.
State Sen. Cheryl Kagan, a Montgomery County Democrat, has submitted emergency legislation to remove a requirement elections officials cited as the impetus for the network.
"This is unneeded, it is unwise, and it decreases rather than increases the security and safety of our election process," she said.
"This is what numerous Democratic activists, leaders and voting rights advocates were concerned about," said Alex Garcia, 36, a city resident who serves on his local Democratic central committee. He works on voter protection efforts for the Democratic Party and experienced a slowdown Tuesday when he went to vote near his home in Ednor Gardens in North Baltimore.
"It's exactly what was predicted would happen, and is unfortunately not surprising — especially given what just happened in Iowa," Garcia said. "This shines an important spotlight on the caution that should be exercised when introducing technology into the voting process."
The network problem in Maryland came one day after Iowa Democratic Party officials said a "coding issue" with a new app created to compile and report caucus results delayed the presidential primary count there.
In Maryland, Kweisi Mfume and Kimberley Klacik were named the Democratic and Republican winners in the primary race for the seat of the late U.S. Rep. Elijah Cummings relatively early in the night. But some people — including board of elections officials — wondered what would have happened here in an election with higher turnout.
For Tuesday's primary, poll workers were to use the networked pollbooks to pull up voters' registration information and send it back to the state in real time. The information would include anyone voting by absentee ballot.
About 5:30 p.m. Tuesday, local polling officials reported to state officials that pollbooks were functioning very slowly as they tried to pull up voters' registration information from databases stored on the devices, Charlson said.
About 6 p.m., state board officials disconnected the pollbooks in Howard County from the network, and saw an immediate improvement in their functioning, Charlson said. They disconnected pollbooks in Baltimore City and Baltimore County between 6:15 p.m. and 6:20 p.m. and saw similar improvements, she said.
State elections officials said the network is needed because big jurisdictions have failed in past elections to get data to the state in time for it to be processed on the day after each election. That's a necessary step to find any potential duplicate votes — like someone who voted by absentee ballot, but also showed up on election day to vote — and remove them before a state-mandated review of absentee votes, which is required to start at 10 a.m. on the second day after an election.
They said the network is secure, and will be ready for use April 28 in Baltimore City and the counties of Anne Arundel, Baltimore, Howard, Montgomery and Prince George's.
The equipment needed for the state's six largest jurisdictions to use the network cost about $1.8 million, which the state got permission to cover using federal grant funding. Last month, officials from Montgomery County asked — unsuccessfully — for the elections board to exempt them from having to use the network, saying it was not needed and introduced unknown threats.
There are no plans to introduce the network in smaller jurisdictions. Kagan said the fact that the network is not being used in all counties, just in big ones with large Democratic voter bases, isn't right.
"There is a political and ideological implication or result if we slow down access to the voting booth in Democratic areas," she said.
Her bill would allow the state to start its review of absentee votes later than currently required. She said that would ease the pressure to get the information back to the state so quickly. There is a hearing Thursday on the bill in Annapolis.
---
Report from Iowa: Md. State Senator at the Caucuses
By Danielle Gaines
Maryland Matters 
February 4, 2020
Read the full article here
Maryland Sen. Cheryl C. Kagan (D) was on the Democratic campaign trail in Iowa on Monday night ― even though her preferred candidate wasn't part of the first-in-the-nation caucus contest.
It was a return trip for Kagan, a Democrat representing Montgomery County in the state Senate.
"I just wanted to feel the energy in the room, see who was present, watch the organizational skills and just get a sense of how those campaigns were looking," said Kagan, who was registered as an official observer and has endorsed former New York mayor Michael Bloomberg for president. "It's exciting. I'm a campaign junkie."
Scene from a caucus site in Des Moines on Monday. Photo by Clark Kauffman/Iowa Capital Dispatch
Since landing in Iowa Friday, Kagan attended five different candidate events for former vice president Joe Biden, former South Bend, Ind., mayor Pete Buttigieg, and Sens. Amy Klobuchar, Bernie Sanders and Elizabeth Warren. On caucus night, she visited two precincts in Des Moines.
Before the wee-hour worrying about whether and when the Iowa Democratic Party would release official results, Kagan posted the results at the two locations she visited. At a smaller precinct with nine delegates up for grabs, Sanders came out on top with three delegates; Biden, Buttigieg and Warren came out with two delegates each. At the larger precinct, Warren emerged the victor, with five delegates, followed by four each for Buttigieg and Klobuchar and three each for Biden and Sanders.
"I think the most obvious takeaway is that we have a lot of talented candidates," Kagan said. "…There are pockets of support for each of the candidates. Each of the candidates have real strengths and it will remain to be seen which of the candidates is seen as the most viable to defeat Donald Trump in November."
Kagan has also observed the caucuses and campaigned in Iowa in 2008 and 2012.
In 2008, she was with a group of elected women from Maryland, door knocking for then-candidate Hillary Clinton. When then-Sen. Barack Obama emerged with the most votes that evening, Kagan said she felt excitement rather than disappointment, having seen the process behind the results.
"Rather than being disappointed, I was exhilarated for having watched the most basic, most grass-roots version of democracy in action," she said.
While in Iowa this time around, Kagan said she also saw Washington, D.C., City Council members, who were advocating for D.C. statehood to the presidential candidates. Statehood advocates helped spread their message with a large banner plastered over the side of the campaign bus of former U.S. Rep. John K. Delaney (D) of Maryland, who announced the end of his presidential bid last week.
Kagan was among many in the Hawkeye State debating the fate of the state's status as the first major contest in presidential elections.
"I am a traditionalist in that there is a magic to Iowa and the caucus process," Kagan said. "At the same time, going from Iowa to New Hampshire to South Carolina does not seem ideally representative of the Democratic electorate."
On Monday night, she was chatting with another caucus attendee about 2020 predictions. The other woman told her two things: Bloomberg would be the party's nominee, and this would be the end of the Iowa caucus process as it exists now.
"I wouldn't be surprised if she's right on both accounts," Kagan said.
---
Md. Bill Requires Voter Info for Returning Citizens
By William J. Ford
The Washington Informer 
January 22, 2020
Read the full article here
Yanet Amaneul, the public policy advocate at the ACLU of Maryland, speaks during a town hall meeting at Lanham United Methodist Church in Lanham, Maryland, on Jan. 20. (Brigette Squire/The Washington Informer)
Although most returning citizens in Maryland are allowed to vote, proposed legislation would require that those convicted of a felony receive voter information before being released from prison.
The legislation seeks to mandate the state's Department of Public Safety and Correctional Services provide a voter registration form, voting requirements and other information before an inmate is released.
The bill, sponsored by Sen. Cheryl Kagan (D-Montgomery County), will be discussed at a public hearing Tuesday, Jan. 28 before the Senate's Education, Health and Environmental Affairs Committee.
The House Ways and Means Committee reviewed the bill Thursday, Jan. 16 sponsored by Del. J. Sandy Bartlett (D-Anne Arundel County).
"There are many individuals walking on the street who don't know they have their rights restored," Bartlett said. "This bill will at least be more proactive and supply the voter registration information because the law states we must do so."
The bill doesn't allow voting rights for those convicted of a felony currently serving court-ordered sentences; individuals diagnosed with a mental disability unable to comprehend "a desire to participate in the voting process;" and a person convicted of buying or selling votes.
Del. Jason Buckel (R-Alleghany County) read a portion of the Department of Corrections' regulations that claims the agency posts notices for inmates, offers absentee ballots and receive voter information while incarcerated.
"It seems to me that we are already bending over backwards to notify people who are already incarcerated that they have these rights," he said. "Is this really going to have any impact? If someone wants to vote, they have the right to vote."
Criminal justice reform advocates and activists have said both the state correctional institutions and board of election office don't offer enough assistance for returning citizens.
Stephen Buckingham explained his client encountered problems during a visit to the Frederick County Board of Elections office.
Buckingham, an attorney who serves as lay community minister and chair with the Unitarian Universalist Legislative Ministry of Maryland, said his client got released from prison six years ago and still hasn't received documentation to show he's a free man and can vote.
"He doesn't have the papers to say, 'you are now released.'" Buckingham said. "This is a real problem, folks. This man needs to have his life back."
Similar legislation has been crafted by the ACLU of Maryland and other organizations, which hosted an "Expand the Ballot" town hall Monday, Jan. 20 at Lanham United Methodist Church in Lanham to present the proposed bill and discuss voting rights for returning citizens and those currently incarcerated.
The legislation seeks to direct the state department of corrections work in conjunction with state and local board of election offices and create a voter information program.
The bill would require the state Board of Elections to incorporate a program for returning citizens and inmates such as disseminating voter information at least 30 days prior to the registration deadline. Eligible inmates are those convicted of misdemeanor offenses or who are being held pretrial without a conviction.
According to the ACLU, Blacks represent 70 percent of the prison population in Maryland but are 31 percent of the overall state populace. About one-third, or an average of 8,000, of those incarcerated are from Baltimore City.
Tierra Bradford, policy manager for Common Cause Maryland, said a mandate must be established.
"Policies like the one [Bartlett] is trying to implement and policies like the one we're trying to implement are necessary for people who are eligible to vote [and] are giving a chance to vote," said Bradford, whose organization also helped craft the bill with the ACLU. "I'm concerned that there's no implementation of a policy [from the state department of corrections.]"
Bartlett said she's open to compromise and work with the group's bill "because it doesn't conflict with what the ACLU is doing. More people registered to vote, the better."
---
Maryland's New Senate President Represents A Generational Shift
By Dominique Maria Bonessi
WAMU
January 2020
Read the full article here
The first time Bill Ferguson practiced presiding over the Senate chamber, he thought he was doing it wrong.
"I would hear Senate President [Mike] Miller's voice in my head when I was reading, and so my initial reaction was that I didn't sound right because it was a different voice coming out," Ferguson said.
Ferguson, the new president of the Senate chamber, realizes he has big shoes to fill. Miller served as Senate president for more than three decades and was the longest-serving state Senate president in the country. The 36-year-old's elevation represents a generational shift for Maryland politics, along with a cultural shift embodied by the ascension of Adrienne Jones, the state's first female and first black Speaker of the House of Delegates.
So he's working on distinguishing himself while facing the challenges of a new General Assembly session. Those challenges include working on a new school funding formula backed by Democrats in the assembly and guiding the chamber through controversial bills that have failed in the past, including gun control measures and legislation to legalize recreational marijuana.
"It's going to take a lot of listening" to get the funding formula across the finish line, Ferguson said. "I think I've learned as a legislator that the best work happens by listening."
His colleagues are happy he is listening and say he is the right person to help push through the funding recommendations from the Commission on Innovation and Excellence in Education, also known as the Kirwan Commission.
"He brings an exciting new energy," says Sen. Cheryl Kagan, D-Montgomery County, vice-chair of one of the committees overseeing the Kirwan recommendations. "He was chosen by us as the consensus and obvious pick because of his skills. Because of his passion for policy."
The Teacher Is Now President
Ferguson isn't a stranger to the issues that plague the state's public schools. In 2005, he left his hometown of Bethesda and moved to Baltimore to work as a history teacher for Teach For America.
"Being a classroom teacher was the hardest job I've ever had and can imagine ever having," Ferguson said. "It's such an enormous responsibility to be responsible for the long-term trajectory of the young people that are in front of teachers on a daily basis."
Despite hailing from Montgomery County, he has fallen deeply for Baltimore.
"I just loved the city when I moved there. It's where I met my wife, who was teaching alongside of me," Ferguson said. "We got really excited about expanding opportunity and Baltimore was a place we could have an immediate impact."
He got his Master's in teaching at Johns Hopkins University's School of Education in 2007 and his law degree from the University of Maryland in 2010. Since 2012, he's been the director of school reform initiatives at JHU's School of Education.
Over his nine years in the Senate, Ferguson has worked on issues including transparency in government, education, health, the budget and ethics. He has also signaled his openness to the legalization of recreational marijuana, which differs from his predecessor.
He now leads a younger and more diverse Senate than Miller, but there several of senators who are two to three decades his senior.
"I don't feel challenged by my age," Ferguson said. "I think my theory of leadership is leadership with people, not over people."
If Ferguson comes off as confident, he was anything but when he first considered the role. He even asked Miller to stay on the job.
"I think [Miller's] really provided a level of stability and predictability that's very helpful and that I've learned a lot from," Ferguson said.
Instead, Miller has publicly boosted him and taken a seat in the back of the chamber (where he will continue to work as a senator representing parts of Prince George's, Charles and Calvert counties,) to give Ferguson space to grow.
"He's demonstrated over and over and over again leadership qualities," Miller told his colleagues last week. "Determination, responsibility, integrity, vision, enthusiasm."
To hammer this point home, Miller evoked the Netflix film on the retirement of Pope Benedict and the ascension of Pope Francis.
"Has anyone seen 'The Two Popes' yet? It's on Netflix," Miller said. "You've got the old pope and the new pope. And the old pope isn't supposed to say anything. That's me."
Nowadays, Ferguson's schedule has been busier than usual figuring out his new role in the Senate while raising two kids, both 10 and younger.
"It has been a seismic shift in my life," Ferguson said. "You know there's been a lot of new. This has been a hard transition when it comes to time allocation and so honestly I'm still trying to figure everything out and make it work.
"Ultimately, I did not see myself in this position initially until very late in the process," he said. "I feel very honored and humbled to have the support of my colleagues."
A Different Brand Of Politics
Miller brought a more centrist ideology to the Senate, said David Lublin, an associate professor of government at American University. Miller is a Catholic, born in a conservative district of southern Maryland.
"Miller was seen as being on the right-wing of the Democratic caucus. Ferguson is more in the middle of it and much more aligned with some of the new progressive senators," Lublin said. "I don't see him as an ultra-progressive, but I do see him as practical."
While Ferguson represents a younger and more progressive demographic, as president he'll have to accommodate all voices, said John Willis, an expert on the Maryland General Assembly.
"Many issues cut across legislative districts' lines," Willis said. "The Senate is a smaller, more collegial body. You have to be engaged personally with all your colleagues. It's going to be very interesting to see how that evolves."
Senate Republicans like J.B. Jennings, R-Baltimore, Harford Counties, the minority leader, say politics are secondary. Jennings seconded Ferguson's nomination and calls him a friend.
"Bill [Ferguson] and I came into this chamber together," Jennings said. "He has reached out to this side of the aisle. He has visited all of our districts to find out what it's like."
Ferguson also recognizes that this job is not about his priorities.
"This role is about presiding over a chamber of 46 other senators," he said. "It's not about one person's politics. And I think it will be more a reflection of where the Senate as a whole is than anything else."
Despite all of these changes, Ferguson says he wants Marylanders to know that the legacy of the Senate is in good hands.
"We have got to maintain that long history and demonstrate stability to the public and so we will," Ferguson said. "That is an enormous priority even though it is not a single piece of legislation."
---
2020 is the year Maryland will finally help 'chained' Jewish women
By Senator Cheryl Kagan 
Washington Jewish Week
January 7, 2020
Read the full article here
Jewish women must receive a "get" (or Jewish divorce) from their husbands before a marriage is considered terminated. Women without this document do not have the right to remarry within our faith. While most Jewish men are willing to grant a get, some withhold it as a means to exact revenge or as leverage related to alimony, visitation rights or domestic abuse charges.
Many of us know women who have been affected by this kind of exploitation. I have heard agonizing stories about the hardships faced by these agunot or "chained women." Women can spend years in an abusive relationship before finally escaping with her children. Although she could be granted a divorce by the state, her husband in a final act of manipulation, could refuse to grant her a get unless she dropped domestic violence charges.
A longtime friend of mine confided that her ex-husband withheld a get until her affluent family gave him a significant sum of money. These are just two examples of heart-breaking scenarios related to this issue.
The New York Times wrote that get abuse has become "a deepening crisis among Orthodox Jews — hundreds of women held hostage in a religious marriage, in some cases for years after civil cases have been settled."
Many have crafted a non-legislative approach to address this problem. Jewish Women International (JWI), for example, launched "From Boy to Mentsch" and "Get Smart" to educate teens about the importance of treating one's partner with respect and the wisdom of halachic prenuptial agreements. Advocacy groups like the Organization for the Resolution of Agunot (ORA) organize protests to shame men into giving a get.
Ours is a nation of religious freedom and tolerance. But when a religious rule is weaponized so that one person can intimidate or injure another, the government has an obligation to intervene. It's time for Maryland to offer legislative protection to those whose civil rights and religious freedom are being threatened.
As a Jewish woman in the year 2020, I am dismayed that this manipulative and outdated practice of withholding a get endures in our community. I realize that as a state senator, it is not my job to change the rules of Judaism. It is, however, my responsibility to protect those in need.
We've come close to passing legislation that would protect women from get withholding before in Maryland. In 2007, Del. Sandy Rosenberg introduced HB 324. It was approved in the Senate committee but was narrowly defeated by a 22-22 tie vote on the floor.
Over the past several months, I've met with Jewish leaders, women's rights advocates and other legislators in the hopes that 2020 is the year Maryland will finally help these agunot. A narrow legislative solution would restrict a husband's ability to control and manipulate his wife.
My bill would allow either party filing for divorce to request an affidavit stating that religious barriers to remarriage have been removed. This sworn statement must be filed before the court can grant a divorce decree.
While educational programs prevent some get abuse, and protests have helped some women break their chains, many women in Maryland and across the country are still suffering. With the increased awareness of #MeToo and sexual harassment, it seems almost inconceivable that Maryland women are forced to endure such an archaic practice.
Maryland Del. Dalya Attar (D-District 41) and I are sponsoring reasonable legislation that will address some of the worst abuses of the get. We are collaborating with dozens of rabbis, the Jewish Community Relations Council of Greater Washington (JCRC), the Baltimore Jewish Council (BJC), Jewish Coalition Against Domestic Abuse (JCADA), the Organization for the Resolution of Agunot (ORA) and many others. I urge Marylanders to join me in supporting this legislation.
State Sen. Cheryl Kagan, a Democrat, represents Rockville and Gaithersburg in the Maryland General Assembly. She is a member of Congregation Har Shalom in Potomac and has served on the regional board of the American Jewish Committee for more than 20 years
---
Ensuring That People Can Easily Understand the Ballot Measures They're Voting On
By Bill Lucia
Route Fifty  
January 6, 2020
Read the full article here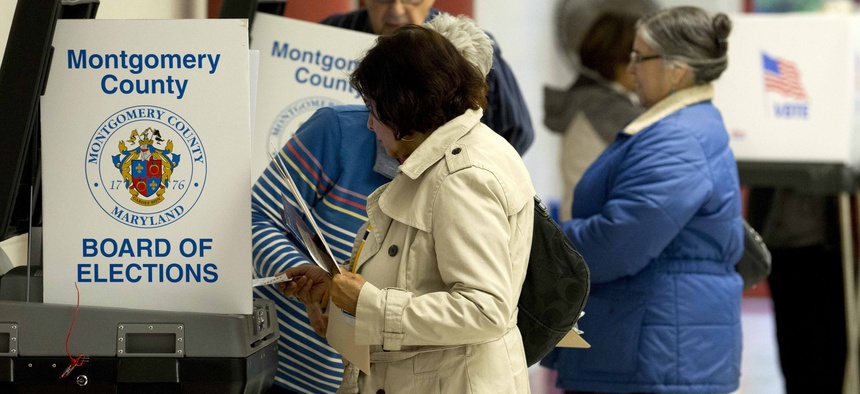 Legislation introduced by a Maryland lawmaker would set new standards for describing ballot measures in the state, with the aim of ensuring that people can clearly understand the proposals they're casting votes on.
The bill calls for ballot questions to appear with a concise statement explaining their purpose—one that can be understood by someone who can read at a 6th grade level.
State Sen. Cheryl Kagan, a Democrat who represents a district that covers suburban areas near Washington, D.C., pre-filed the bill last year, teeing it up for possible consideration in a legislative session set to begin Jan. 8.
"When we want people to cast a ballot to express their views on important ballot measures, it seems only fair that we can make it clear enough so that they understand the choice that they're being asked to make," Kagan told Route Fifty on Monday.
Other states have previously adopted similar "plain language" requirements.
But the Maryland bill is notable because it requires the clearly written statement about a ballot measures' purpose to appear on the ballot itself, as opposed to in a voters' guide or in other materials, said Whitney Quesenbery, co-director of the Center for Civic Design.
"There are not many states that have something as clear as this," she said. "It's very explicit about it being the language on the ballot, rather than just information about the ballot."
If passed as written, the Maryland bill would take effect in January of 2021.
Quesenbery said that helping people to easily understand what they are voting on can build trust in government and elections. "I think that it's actually part of promoting election integrity," she added.
Grade level reading standards can be an imperfect way of trying to ensure that ballot measures, laws and regulations can be easily understood. This is because the grade level standards typically factor in how many syllables are in words, and how many words are in sentences. These criteria don't necessarily guarantee clear writing.
The Maryland bill addresses this concern, Quesenbery said, because it says the ballot question statement must be written so it can "be understood by" a person who has attained a 6th grade level of reading comprehension, instead of just saying it must be written at that level.
She said that determining whether something like a ballot measure or regulation passes muster when it comes to using plain language typically involves "usability testing," where people read the material, and then try to explain it back.
At this point, Kagan said she's still unsure how the plain language requirement proposed in her legislation would be tested or formally scrutinized to make sure ballot measure summaries are living up to the guidelines in the bill.
"But the bottom line," she said, is that the language people read on the ballot "shouldn't sound like a legal document."
With ballot measures in particular, plain language can be important, especially for people who are deciding on proposals that they have not learned about before casting their votes.
Alabama is one of the states that has already taken steps to ensure that voters can easily understand ballot measures. Legislation approved there in 2014 created a Fair Ballot Commission tasked with providing plain language summaries of the proposals.
Quesenbery noted that in California, the attorney general's office and the Legislative Analyst's Office are both involved in drafting the materials that are presented to voters about ballot initiatives. "The LAO's office has a really good plain language program," she said.
She also highlighted a program in Washington state that dates back to 2005, known as Plain Talk, which requires state agencies to use simple and clear language when communicating with citizens and businesses.
Kagan said she decided to introduce her plain language bill after attending a presentation by Quesenbery at a National Conference of State Legislatures event. The state senator was generally upbeat about the prospect of the legislation attracting support during the upcoming session.
This story was updated after publication with comment from state Sen. Cheryl Kagan.