Maryland lawmakers consider plastic foam ban in restaurants, schools
By Samantha Hogan
The Frederick News-Post
Read the full article here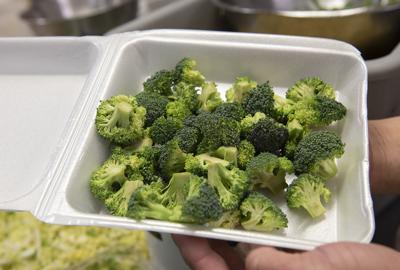 ANNAPOLIS — Maryland could be the first state to ban foam food containers statewide, but it would mean taking legislation where it's never gone before.
For the third straight year, the Senate Education, Health and Environmental Affairs Committee held a hearing on a bill that would ban the use of foam food containers. Sen. Cheryl Kagan (D-Montgomery) is again sponsoring the bill, SB 285, to create a unified ban of the product.
"It takes up room in our landfill, it breaks down and does not biodegrade, it ends up littering the side of our streets, it ends up in our waterways, the fish eat it and then we eat the fish. Single-use foam [containers] are up to 40 percent of the volume of our litter," Kagan said at the bill hearing on Tuesday.
Food service businesses would have until Jan. 1, 2020, to transition to non-foam containers, though a one-year waiver may be available to businesses that would experience "undue hardship" from the ban. More than half of the state's population lives in a county or city that has implemented, or has pending, restrictions on foam packaging in food service, she said.
The bill would ban plastic foam food containers — often referred to as Styrofoam, which is a trademark name often misused to describe disposable containers that carry food from restaurants, fast-food places, cafes, delicatessens, coffee shops, supermarkets, food trucks, institutional cafeterias and others.
The Tasting Room in downtown Frederick uses plastic containers for the majority of its food, if it's being carried out of the restaurant. However, the one item it does put into a foam container is soup, said General Manager David Campbell.
The soup is made from scratch in the restaurant each day, and it is packaged to order in the kitchen. A loophole in the bill allows pre-packaged soup and other foods sealed in plastic foam outside the state to be exempt from the ban. The Tasting Room would not qualify for this exception.
The restaurant has not looked into any alternative containers, but it would have to if the bill progressed through the General Assembly, Campbell said. Similar bills submitted in both chambers in 2017 and 2018 never made it out of committee.
Still there has been movement in Maryland and Washington, D.C., away from plastic foam products. 
Montgomery County banned plastic foam in food service and as loose packaging starting in January 2016. The following July, Prince George's County followed suit, banning plastic foam for the same uses.
Washington, D.C., also banned plastic foam food containers in 2016 and recently began enforcing a ban on single-use plastic straws at local eateries. These changes have largely been directed at the food industry, even though foam products are used and sold in other industries.
"I don't know if it's needed in the food industry as much as it's needed [to be recognized] as a global issue polluting our landfills," Campbell said.
Kagan's bill proposes that the ban would be overseen by the Maryland Department of the Environment but enforced locally by each county. The counties would each set a fine of no more than $250 and be in charge of enforcing the ban through its health department. Frederick County Sen. Ron Young (D) is a co-sponsor of the ban.
One of the reasons the food industry may be targeted to be the first to stop using a product is because it is the largest user of these single-use products, Campbell said. But he declined to speculate on why lawmakers were considering a ban on plastic foam now.
Baltimore City will stop the use of plastic foam food service products in its school's cafeterias in October. The bill would expand on this action by also banning the use of plastic foam trays in all schools and higher education institutions statewide.
Frederick County Public Schools currently buys five-compartment foam trays to serve food in the majority of its cafeterias, said Steve O'Brey, procurement coordinator for the school system's Office of Food and Nutrition Services. He has begun looking at alternative products; however, initial estimates show a $50,000 annual increase in cost.
FCPS is trying to be proactive in finding a new product to replace its foam trays, since it appears a ban on plastic foam products is the direction the state is headed, O'Brey said.
"We know it's probably going to come down the pipe in the next few years," O'Brey said.
There are a few paths that FCPS could take to replace its foam trays.
Approximately 90 percent of the county's elementary schools and four middle schools currently have reusable plastic trays, but not all the schools have a dishwashing machine to accommodate this change and other school systems have struggled with high school students throwing reusable trays in the trash, said Robert Kelly, senior manager of food and nutrition services at FCPS.
"Who's going to be pulling those out of the trash?" Kelly asked hypothetically. 
Another possible alternative to foam trays is a compostable paper tray, which FCPS successfully piloted in Middletown High School during the 2018-2019 school year. However, the tray is three times the cost of the foam tray and would be cost-prohibitive to put in the 10 other high school cafeterias, Kelly said.
FCPS's overall food service operating budget is $12.9 million, and the $50,000 increase to change the trays would account for less than half of 1 percent of the total budget.
Kelly cautioned, however, that the $12.9 million included much more than just food. FCPS is self-sustaining and its food service budget includes labor and benefits for its 340 employees as well as equipment, repairs, computers, pens and pencils on top of food. 
On average, FCPS serves 7,000 breakfasts and 13,000 lunches daily at its schools.
"Compared to the $12.9 [million], it's a small number, but there's a lot of other numbers that factor into this," Kelly said.
Bill That Could Change How MoCo Votes Advances In MD Legislature
BETHESDA, MD — A bill that could change the way Montgomery County residents vote in local elections is being considered in the Maryland legislature.
Proposed by Del. Eric Luedtke and Sen. Cheryl Kagan (D-Montgomery), the bill would allow the Montgomery County Council to adopt a ranked-choice voting or an approval voting system.
Under a ranked-choice voting system, voters rank candidates for office in order of preference. The candidate with the majority of first-preference votes wins. If no one receives the majority, at first, election officials will tally voters' subsequent choices until there is a winner.
The Montgomery County delegation voted unanimously in support of the bill on Friday.
Amendments made in the bill involved "requiring a local law adopting ranked choice voting or approval voting to provide for an educational campaign explaining how to vote using ranked–choice voting or approval voting."
The proposal will go before the House Ways and Means Committee on Feb. 19.
Kagan said that the bill had been introduced to the delegation last year, but only passed by a narrow margin.
"Sometimes it takes another year or two for legislators to feel comfortable with a new issue," Kagan told Patch.
According to FairVote.gov, a Montgomery County-based organization that advocates for electoral reform, more than a dozen cities across the U.S. have adopted a ranked-choice voting system. Areas include:
Basalt, Colorado: Adopted in 2002 and will be used when three or more candidates run for mayor.

Berkeley, California

: Adopted in 2004 and has been used since 2010 to elect the mayor, city council and city auditor

Cambridge, Massachusetts

: In use since the 1940s in multi-winner RCV form for the nine seat city council and six seat school board elected citywide
Carbondale, Colorado: Adopted in 2002 for mayor when there are three or more candidates

Minneapolis, Minnesota

: Adopted in 2006 and used since 2009, in elections for 22 city offices, including mayor and city council in single winner elections and some multi-winner park board seats

Oakland, California

: Adopted in 2006 and used since 2010 for a total of 18 city offices, including mayor and city council

Portland, Maine

: Adopted in 2010 and used since 2011 for electing mayor

Maine

: Adopted in 2016 and first used in June 2018 for all state and federal primary elections

San Francisco, California

: Adopted in 2002 and used since 2004 to elect the mayor, city attorney, Board of Supervisors and five additional citywide offices

San Leandro, California

: Adopted as option in 2000 charter amendment and used since 2010 to elect the mayor and city council

Santa Fe, New Mexico

: Adopted in 2008 and used since March 2018 for mayor, city council, and municipal judge

St. Paul, Minnesota

: Adopted in 2009, used since 2011 to elect the mayor and city council

Takoma Park, Maryland

: Adopted in 2006 and used since 2007 in all elections for mayor and city council

Telluride, Colorado

: Adopted in 2008 and used since 2011 to elect the mayor when three candidates run, as in 2011 and 2015
Kagan said that the traditional voting method makes it impossible for voters to express how they feel about each candidate.
"I think (Montgomery County) voters were overwhelmed last year when they were faced with six candidates for County Executive and 33 for County Council," Kagan said. "There was no way that they could express their true intent with the traditional methods of voting."
Kagan said that it wouldn't be difficult for residents to adjust to a new voting system.
"Voters make decisions every day and are faced with a series of choices, whether it's about which flavored ice cream they ordered, or what kind of beer is available on tap, or what outfit to choose in the morning," Kagan said.
---
Ranked Choice Voting Bill Passes First Test in Annapolis
By Dan Schere
Bethesda Beat
February 12, 2019
A bill that would give the Montgomery County Council the authority to change its voting system to an alternative "ranked choice" method has cleared its first hurdle in the Maryland legislature.
The bill, sponsored by Montgomery Democrats Sen. Cheryl Kagan (Rockville/Gaithersburg) and Del. Eric Luedtke (Burtonsville), would allow the county to transition local elections to a method where voters mark their ballot by ranking the candidates in order of preference.
The proposal was advanced to the Ways and Means Committee for a hearing Feb. 19 following unanimous approval by the Montgomery County legislative delegation on Friday.
Kagan said that the bill had been introduced last year, but only passed narrowly in the delegation. The unanimous support this year, she said, was due to the fact that legislators heard complaints from confused voters who last year faced a choice of 33 candidates in the Democratic primary in the at-large County Council race and six in the county executive race.
"It was overwhelming to most voters, and people wanted more options in their ability to show nuance with their ballots," she said.
Under the ranked choice system, currently used in five states, the candidate with more than 50 percent of "first choice" votes wins. If no candidate receives a majority, the "second choice" votes are tallied, and the process repeats until a candidate receives a majority of votes.
During Friday's delegation session, the bill was amended to require a public education campaign if the legislation is approved by the House of Delegates and Senate.
Kagan said she doesn't believe the new method is too hard to learn, equating it with choosing an alternative type of pie for dessert.
"You go to grandma's house for Thanksgiving, and she didn't make the pecan pie, but the apple pie is really good, and the blueberry pie is good too… we do that all the time. In the same way people do that with their candidates. So I don't think this is going to be foreign," she said.
---
DEBATE CONTINUES OVER POST-LABOR DAY SCHOOL START
According to Patricia O'Neill, the vice president of the school board, when Hogan signed the executive order, he required schools to end by June 15.
"Ending by June 15 creates a terrible hardship on school systems when you have large numbers of snow days," said O'Neill. "Now this year so far—knock on wood—we have not had a 'Snowmageddon.' We have had years where we've closed for 10 days."
O'Neill said that the school board has "already extended the school year by one date." If there's another weather cancellation, the school board will have to take away a teacher professional day, June 5. If by chance there's a third school day canceled, then the board will need to "cut into spring break."
State Senate Begins Debate to Overturn Hogan's Executive Order
The state Senate has already begun debate about introducing legislation that would overturn Governor Hogan's mandate. Nancy King, who represents Montgomery County, is one of the sponsors of the bill.
According to Cheryl Kagan, the legislation will have its final vote in Maryland's Senate on Tuesday.
Tweet
O'Neill said that the school board supports this legislation.
"Educators and school boards should make the decisions related to the school calendar and what's in the best interest of children," she said. "Every school system in the state of Maryland should decide for themselves what works for their community with the calendar."
Governor Hogan Doubles Down on Support for School Start Mandate
In his press conference, Hogan cited Democratic politicians who he said previously supported the mandate to start school after labor day.
Hogan argued starting school after labor day is popular with Marylanders and its only politicians and "paid political operatives" who want to overturn the mandate.
"We simply cannot and we will not allow misguided and misinformed legislators and special interest groups to turn back the clock and ignore the people of Maryland," said Hogan.
O'Neill questioned the credibility of a survey that Hogan cites about Marylanders support for the mandate. She said that she understands local businesses want more business Labor Day weekend, but she said that academics need to come first.
"We have to deal with academic achievement; we have to deal with kids who needs meals in schools," said O'Neill. "We have thousands of high school athletes in the state of Maryland who return around August 10th every year to begin fall sports that's set because of the way the athletic schedule falls and playoffs. So thousands of high school students, regardless of whether we start before or after labor day, are already back on our school grounds in early August."
Hogan Threatens Referendum Over Post-Labor Day Start
Hogan said the legislation to overturn the post-Labor Day school year start passes, he'd bring forth legislation that would bring the decisions back to Marylanders to make the decision, by putting the issue forward as a referendum.
"Any local school system that attempts to evade the law and start school before labor day would be required to put that decision on the ballot, for the voters of that jurisdiction to decide for themselves. Our bill will offer genuine local control over this important issue, as opposed to the legislation currently before the Senate masquerading under the guise of more local control, which would actually do the opposite of what local citizens want and instead empower a bunch of bureaucrats and administrators decide," said Hogan.
---
When women vote, things happen
---
Supporters Of Updating 911 Line Outline Legislation
ANNAPOLIS, Md. — A better way to handle emergencies may be on its way to Maryland.
Lawmakers are looking at a statewide upgrade of the 911 system, which they sayneeds speed, reliability and security.
"Maryland's 911 is behind 22 other states in updating our system to become Next Generation 911," said State Sen. Cheryl Kagan who headed the commission to advance 911.
There are 23 recommendations including technology to locate people faster, accept texts and photos, enhance cyber-security and address staffing shortfalls.
State Sen. Cheryl Kagan chaired the commission.
"People talk about how they can push a button on their phone and the pizza person can find them, or Lyft and Uber can find them, and yet 911 can't," She said.
It won't be cheap. The overhaul is in the $40 million range with an annual cost between $5 and $10 million.
Part of the cost would be paid by adding 25 cents to dollar-amount charged for 911 on our telephone bills, which supporters say is worth the service.
---
Kirwan briefs lawmakers on report's education policy and funding recommendations
---
It's time for Maryland and Virginia to embrace ranked-choice voting
---
Sen. Cheryl Kagan Talks About Updating 911 Call Technology
Sen. Cheryl Kagan, a Montgomery County Democrat, says 911 call technology say upgrades are long overdue.
---
NextGen 911 would replace Maryland's antiquated system
---
Fee hike proposed for Marylanders to pay for costly 911 upgrades
---
Supporters of updating 911 line to outline legislation
ANNAPOLIS, Md. (AP) — Maryland supporters of updating 911 emergency call technology are outlining some proposals.
Sen. Cheryl Kagan is holding a news conference Wednesday with supporters.
One proposal would enhance Geographic Information Systems capacity to help first responders locate those in need more quickly and accurately.
Supporters of upgrading the system also are calling for updates in technology so responders could receive texts, photos and video.
Legislation approve last year in Maryland creates a commission chaired by Kagan to study 911 concerns. The commission has issued a 65-page report with 23 recommendations to improve the state's emergency call system.
---
Lawmakers announce legislation to upgrade Maryland's 911 system
---
Letter to President Trump Urging Him to Reopen the Federal Government
January 15, 2019
President Donald J. Trump
The White House
1600 Pennsylvania Avenue NW
Washington, DC 20500
Dear President Trump:
As elected representatives of over 147,000 federal employees from the State of Maryland, we write to you
to ask that you expeditiously initiate a bipartisan compromise that will reopen the federal government.
As you know, the State of Maryland hosts the fifth-largest number of federal employees in the United
States. These employees are currently facing indefinite uncertainty and extreme hardship as the shutdown
continues day after day. Many are faced with dire consequences as they have stopped receiving the
salaries that they depend upon to meet their most basic needs.
In the Maryland State Senate we have a proven track record of working across the aisle to serve the
residents of our state. We work daily to ensure that partisan aims do not take the place of responsible
decisions and we are hopeful that you would be willing to do the same. While it may sound simplistic,
everyone doesn't always get everything that they want. That's how compromise works and that's what
we're asking that you do.
Again, please join together with Congressional leaders to reopen the federal government for the good of
all of those that we mutually serve.
Sincerely,
Senate President Thomas V. Mike Miller, Jr.
Senator Malcolm Augustine
Senator Pamela Beidle
Senator Bobby Zirkin
Senator Mary Washington
Senator Jeff Waldstreicher
Senator Brian Feldman
Senator Melony Griffith
Senator Guy Guzzone
Senator Obie Patterson
Senator William C. Smith, Jr.
Senator Cheryl Kagan
Senator Nancy King
Senator Benjamin Kramer
Senator Joanne C. Benson
Senator Craig Zucker
Senator Jill Carter
Senator Ron Young
Senator Sarah Elfreth
Senator Arthur Ellis
Senator Clarence Lam
Senator James Rosapepe
Senator Paul Pinsky
Senator Antonio Hayes
Senator Katie Fry Hester
Senator Susan Lee
Senator Douglas J.J. Peters
Senator Shirley Nathan-Pulliam
---
Letter to Secretary Rahn on I-270
January 16, 2019
Secretary Pete Rahn
Maryland Department of Transportation
7201 Corporate Center Drive
Hanover, MD 21076
Re: Public Meeting in Rockville on 1–270
Dear Secretary Rahn,
On behalf of the residents of Rockville and Gaithersburg, we are writing to request that the Department of Transportation hold a public scoping meeting in District 17 regarding the proposed I-270 traffic relief project.
The proposed project has generated widespread concern among residents of our district, who fear loss of homes and businesses, as well as degraded quality of life from additional traffic, noise, and air pollution. Many residents have already voiced their concerns as part of the official public process, but many others have not. This was, in part, because no public scoping meetings have been held to date in the 1-270 study area.
Senator Kagan raised this specific point at the October 2018 Montgomery County 'Road Show.' At the meeting, you committed to holding at least one public meeting in Rockville.
The Montgomery County House Delegation learned last week that the public scoping meetings will continue to be held into February 2019. As such, we ask that you fulfill your promise and hold a public meeting in Rockville in the near future. The City of Rockville stands ready to host the meeting at one of their facilities.
We look forward to your prompt response to this time-sensitive matter. For more information, please contact Delegate Palakovich Carr's office at julie.palakovichcarr@house.state.md.us.
Sincerely,
Senator Cheryl C. Kagan
Delegate Kumar Barve
Delegate Jim Gilchrist
Delegate Julie Palokovich Carr