March 30, 2017
Dear Friend:
As we approach the end of Session, I have been wrapping up my legislative agenda and working on important statewide priorities.
Making Progress on My Legislative Agenda
After success in the Senate, I presented several of my bills to colleagues in the House of Delegates that would protect cities from contract fraud; simplify nonprofit terminology in State law; make post-divorce name changes easier; and streamline required campaign finance reports for contractors with local governments. 
Additionally, after two years of work, my legislation to reform our 9-1-1 public safety system (
SB466
) passed the Senate unanimously. Now I will work toward passage in the House.
Another top priority this session, my Nonprofit, Interest-free, Micro Bridge Loan (NIMBL) program (
SB465
), would provide short-term loans to nonprofits that have already earned government grants and contracts but haven't received promised funds yet. The bill has now passed both the House and Senate, and I am still working to ensure immediate funding for the program.
Recruiting an International Music Conference to Maryland
I spent last weekend with leaders from
Folk Alliance International (FAI)
, showing them why Baltimore should host their annual conference in 2020 and beyond. With help from
Visit Baltimore
(and special guest
Mayor Catherine Pugh
!), we toured venues and enjoyed music by 14 local performers as we showcased Maryland's vibrant arts community. FAI staff and board were impressed with what Maryland has to offer; I will continue working with the MD Department of Commerce's Office of Tourism, the State Arts Council, and other agencies to lure FAI to our state. The Conference would bring our state visibility and prestige… and roughly $4.5 million per year in economic impact!
Passing A Balanced Budget
The Senate unanimously passed the State's Fiscal Year 2018 budget this week. This bill closed a $400 million revenue shortfall while providing record-high funding for public education– and with no tax increase! The General Assembly dedicated funds to keep costs low at public universities; prevent and fight addiction; and give raises to workers who care for the developmentally disabled. 
Tackling the Opioid Epidemic in Maryland
Thanks to bipartisan efforts by the General Assembly and Gov. Hogan, the Senate unanimously passed both SB967, the Heroin and Opioid Prevention Effort (HOPE) and Treatment Act, and SB1060, the Start Talking Maryland Act. Together, these bills will make Maryland a national leader in addressing the growing opioid epidemic by creating crisis centers, an addiction hotline, and addiction prevention programs.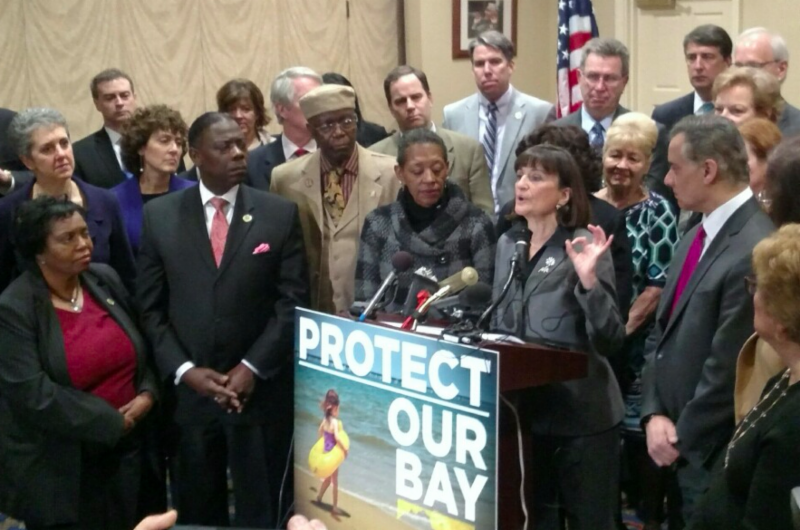 Defending The Bay
Among other critical programs, the White House's proposed federal budget slashes funding for Chesapeake Bay clean-up by canceling more than $73 million in vital Environmental Protection Agency spending. I was proud to stand with dozens of my Senate and House colleagues as we
called on Gov. Hogan
to oppose these drastic cuts. 
Join me for the Multiple Sclerosis Walk!
I began fundraising for MS research more than 20 years ago, when the daughter of a dear friend was diagnosed with this uncertain illness. Last year, with help from friends and colleagues, I raised over $2,000– and I hope to do even more this year! These annual walks help fund research, job training, and other services for thousands of our friends, neighbors, and colleagues. Thanks to years of research, there are now eight FDA-approved medications that treat and slow the progression of MS. 
Will you walk with me in Rockville on April 23rd, or help me raise funds for the National MS Society?
Regarding the Incidents at Rockville High School
As you may have heard, a female student was sexually assaulted at Rockville High School recently. A few days earlier, another student was beaten by a classmate– with several witnesses. Like you, I am outraged by these crimes and have been assured that investigations are ongoing. Our police and school system take these situations very seriously as they work to protect students. While anecdotes sometimes influence policymaking, they should not determine legislative action.
You can follow me on 
Facebook
, 
Twitter
, and 
Instagram
 for photos and updates throughout the session, as well as fun and interesting events in District 17. Please check 
my website
 to learn about Senatorial Scholarships, internship opportunities, and more! Any questions or comments can be directed to me
via email
.
Best,
Cheryl
Cheryl C. Kagan
State Senator, District 17
Rockville & Gaithersburg
301/858-3134
P.S. Are you a District 17 resident in undergraduate or graduate school… or do you know someone who is? There are just two weeks to submit a thoughtful application for a
Senatorial Scholarship
for this fall's semester.
Learn more and apply here.