April 26, 2021
By: Suzanne Pollak
Read the full article here.
Maryland Sen. Cheryl Kagan, who represents Gaithersburg and Rockville, was called "a life-long champion" for both Montgomery County and "the entire state of Maryland," by U.S. Sen. Chris Van Hollen as she received the 2021 Hyman Bookbinder Award from AJC, the American Jewish Committee, April 25.
U.S. Rep. Jamie Raskin called her "our beloved senator" and praised her for her efforts for the environment, as a consumer champion and her work to improve the state's 911 emergency system. He also thanked her for crusading to rid the state of its racist state song, "Maryland, My Maryland." U.S. Rep. David Trone added, "She is a voice for the voiceless and a strong advocate for justice. She's a true leader in the community.
Maryland Lt. Governor Boyd Rutherford praised her passion, and State Sen. President Bill Ferguson called her "a tireless advocate" who "is never afraid to dig into the weeds of the issue."
Kagan, who has served on the AJC board since 1999, is a founding member of the synagogue Congregation Har Shalom in Potomac. Its rabbi, Adam Raskin, called her "the consummate public servant."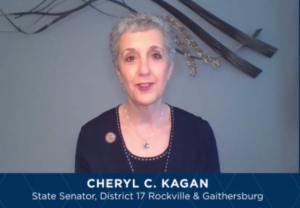 Kagan served in the Maryland House of Delegates for eight years and currently is in her seventh year as a state senator. Receiving the award is "one of the greatest honors of my life," she said during the virtual award ceremony. "I love making a difference. I love being an advocate."
Cheryl also was applauded for her Scrabble skills, for which she is nationally-ranked, her love of folk music, her podcast, "Kibbitzing with Kagan" and her ever-present can of  Tab.
The Bookbinder Award is named for the now-deceased Bethesda resident who worked for social justice, women's rights, poverty and Jewish affairs. He worked under then-Vice President Hubert Humphrey and former President Jimmy Carter during his six decades in public service.