October 1, 2020
Dear Friend:
The season of apple-picking and pumpkin-carving is upon us. I hope you can enjoy the cooler weather, safely, with family and friends. Remember– any time you are gathered with others who are not members of your household, wear a mask!
Counting in the Community
Did you know– those who complete the Census will bring $18,000 in federal funding to our County over the next decade? If you have not yet done so, please 
take 10 minutes
 to complete the Census today. Last week, I volunteered in Gaithersburg to help dozens of County residents complete the Census. It was fun to connect with constituents and activists– even while wearing masks!
Got Your Ballot Yet?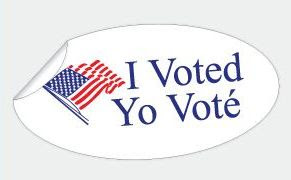 What to Expect When You're Voting: A Series (Part 5)
In addition to the races for President/Vice President, Congress, Board of Education, and the Sitting Judges, six questions appear on your ballot. I've added a new page to my website which includes my previous recommendations.
Vote NO on Charter Question C
Question C proposes to increase our County Council from 9 to 11 members– and we lose our right to elect a majority. This proposal had no public hearings and will increase the cost of running our government at a time we need to be trimming expenditures.
Vote NO on Charter Question D
Question D would establish nine single-member districts, meaning that we would each vote for only ONE Councilmember. Other jurisdictions that tried this model found that it led to parochialism, vote-trading, and a lack of countywide perspective.
Solving the COVID-19 Puzzle?
Gov. Hogan and I were invited by Gaithersburg-based 
Novavax
 to tour their research facility. It was exciting to see the progress they are making to develop a vaccine for COVID-19! I am immensely proud to represent the high-tech corridor, where brilliant scientists are working around the clock to save lives.
Kibbitzing with Kagan!
---
Best,
Cheryl
Cheryl C. Kagan
State Senator, District 17
(Rockville & Gaithersburg)
PS: Thanks to a large parcel of land donated by AstraZeneca (formerly MedImmune), 
Discovery Park
 is now open in Gaithersburg! I was honored to present Mayor Jud Ashman with a Senate Citation at the ribbon-cutting last week.